June 22–24, 2017
Department of English and American Studies,
Faculty of Arts, Palacký University Olomouc, Czechia

TOPICS AND ISSUES:
How does literature, film, television, art, history and cultural geography reflect the notion of the human body/subject/identity or objects as being situated or emplaced; place as an event?
How does literature respond to Yi-Fu Tuan's notion of place as a field of care?
Does the identification of place have to involve an "us/them distinction in which the other is devalued" (David Harvey)?
Should one speak of constructing or producing a place? ("Place, then, needs to be understood as an embodied relationship with the world. Places are constructed by people doing things and in this sense are never 'finished' but constantly being performed." (Nigel Thrift)
How are places "produced" by cultural practices such as literature, film and music?
How is the human subject and identity constructed or produced by places?
Which new kinds of places appear in recent American literature?
Place as home, outdoor places, indoor places and their changing meanings over time.
Deadline for paper proposals (ca 250 words): March 30, 2017
Address: colloquium.olomouc@upol.cz and michal.peprnik@upol.cz
Extended versions of papers will be peer-reviewed and their selection will be published in the peer-reviewed scholarly journal Moravian Journal of Literature and Film published by Palacký University Olomouc Press (see http://www.moravianjournal.upol.cz/ ).
About Palacký University
Palacký University Olomouc is the second-oldest university in Czechia, educating scholars since the 16th century. The city of Olomouc is also the place of one of the richest national heritage sites, second only to Prague. A second home to more than 23,000 students from around the world, Olomouc is a university town, sometimes nicknamed the "Czech Oxford". Its old center boasts a number of admired historical sights – a multitude of churches of various denominations and architectural styles, a majestic renaissance town hall, a number of monumental statues and fountains as well as remnants of mighty 18th century fortifications.
Palacký University's eight faculties provide hundreds of study programmes, encompassing virtually all areas of contemporary arts and sciences. With science and research being the university's top priorities, its research teams utilize state-of-the-art technologies and students assist in solving scientific research projects. It currently ranks among Europe's elite research facilities in a number of fields, excelling particularly in nanotechnology, optics, experimental chemistry and medicine, as well as special education, kinanthropology and physiotherapy.
Travelling to Olomouc
By plane
Olomouc has no international airport. However, it is easily accessible from all of the following airports by train, bus or car.
Prague: Vaclav Havel Airport, Czech Republic (270km)
Brno: Turany Airport, Czech Republic (80 km)
Ostrava: Leos Janacek Airport, Czech Republic (80 km)
Bratislava – M.R. Stefanik Airport, Slovakia (210 km)
Vienna: Vienna International Airport, Austria (260 km)
Katowice: Katowice-Pyrzowice Airport, Poland (210 km)
Krakow: Kraków-Balice Airport, Poland (265 km)
The most frequent (and direct) train/bus connection is mainly between Olomouc and Prague/Brno/Ostrava. In Prague and Brno, there are frequent buses (30 min intervals between 05:30 and 21:00) connecting airport with the main train station. You can look at train/bus travelling possibilities (also in English and German).
How to get to Olomouc from the Vaclav Havel Prague Airport 
There is a good network of buses operating to and from the airport including the Airport Express Bus (AE).
Airport Express (AE): Terminal 1 or 2 to Main Railway Station (Hlavní nádraží) – approx. 30min | Operates every day from 5:30 am – 10:00 pm timetable (CZ) | Departure from Wilsonova street | Tickets available from the driver – 60 CZK
Bus line 119: The bus will take you from Prague Airport to Nádraží Veleslavín station (Metro line A) – 15 min – 32 CZK, timetable (CZ),  then you continue by Metro to Hlavní nádraží station (Metro line C). Remeber that you have to change for line C in Muzeum Metro station. The ticket for bus applies to Metro as well. Prague Metro has 3 lines: A (green),  B (yellow), and C (red). The detailed map of Metro lines is here. For further detailed information see this page.
Taxi: FIX Airport Cars (+420 220 113 892, +420 220 117 078, 420 722 555 525, http://www.airportcars.cz) | Taxi Praha (+420 220 414 414,  http://www.taxi14007.cz ) | Contact counters of taxi operators are located at the arriving hall of Terminal 1 and 2. Departure points are displayed in front of arriving halls.
How to get to Olomouc from the Brno-Turany Airport 
There is a busline no. 76 coming regularly in 20 min intervals from the airport to Brno Hlavní nádraží Railway Station. The bus stop in the airport is situated in front of departure terminal. The bus stop in Brno is situated in front of Grand Hotel close to Brno Main Station. The bus ticket can be obtained directly from the bus driver at 25 Kč or ca 1 EUR (you can also use contactless cards for payment). From Brno you can continue by train. For further detailed information, please refer to the company website  (available in English).
By car
Olomouc is also conveniently accessible by car from Prague (approx. 3h), Vienna (approx. 2h 35min), Poland and Slovakia. When driving on the motorway you will need to pay road tax. For more information please visit this website.
By train
Olomouc is also easy accessible by train, with access to some high-speed trains. There are three railways companies operating in the Czech Republic: The Czech Rail Company, Leo Express and RegioJet. When selecting the train, you have to notice the company and than buy the ticket from it. These companies use trains which provide a fast and convenient connection to Olomouc. Note that some trains request advanced compulsory seat reservation (e.g., Czech Rail Company's Pendolino express). The selling places for tickets of the three companies are situated close to each other in Prague railway station. For further detailed information, please refer to idos.cz or jizdenky.studentagency.cz (both available in English).
Prague – approx. 2h 30min
Brno – approx. 1h 30min
Ostrava – approx. 1h
Warsaw – approx. 5h 30min
Katowice – approx. 3h
Krakow – The only direct train is a night train.
By bus
Travelling by bus is in most cases cheaper than by train, on some occasion also faster. For information about domestic and international timetables, please refer to idos.cz or jizdenky.studentagency.cz (both available in English).
Accommodation
You may take advantage of pre-ordered accomodations in a hotel-type university dormitory located within walking distance of the conference venue. Please make your reservations using the email address bellow. Be sure to use the password literature when making your reservation:
Dormitory Generála Svobody
– Šmeralova 1122/12, Olomouc
– Double rooms, 2 neighbouring rooms with shared toilet and shower facilities
– Price: 360 CZK per person and night in double room; 531 CZK per person and night in single room
– A 12-minute walk to the conference venue
– Contact: hotel@upol.cz, +420 585 638 016, +420 777 000 202
– Web: Dormitory Generála Svobody
If you prefer private accommodation, there are two hotels within walking distace of the conference venue that we can recommend. For more information about accommodation and rates, see their respective websites: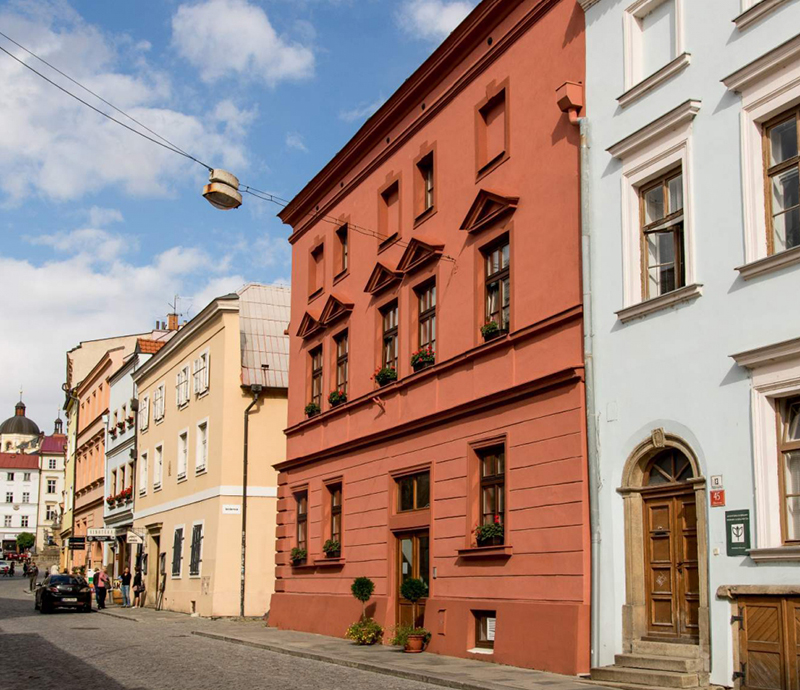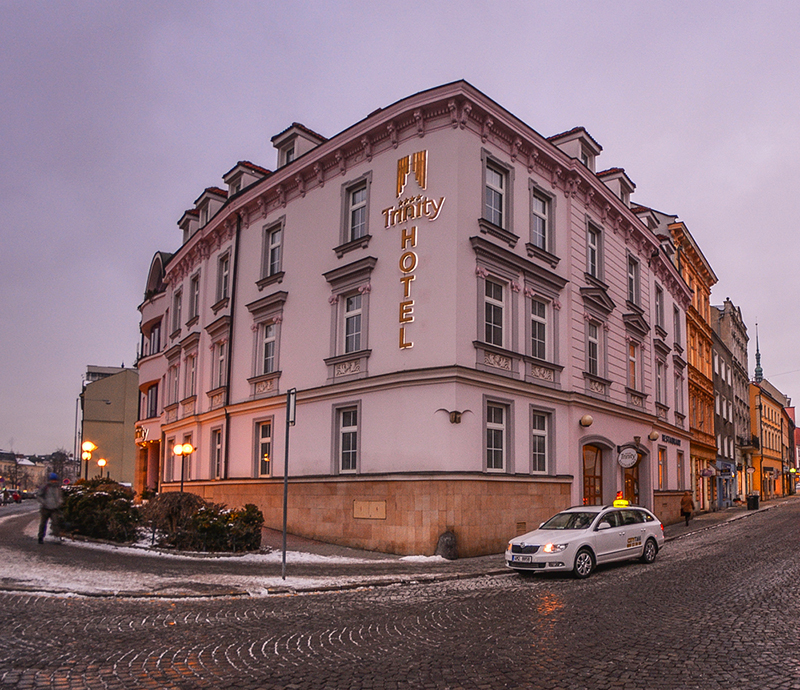 Registration
Please register for the conference using the interactive form bellow:
CONFERENCE FEE PAYMENT
The payment has to be made by June 12, 2017 by bank transfer, using the details bellow:

BANK TRANSFER INSTRUCTIONS
Title of the bank transfer: YOUR NAME
Organisation: Palacký University Olomouc
Bank name: Komercni Banka, a.s. Olomouc, tř. Svobody 14, 772 14 Olomouc
Bank code: 0100
For payment in EUR:
Name of account: Univerzita Palackého v Olomouci
Bank account: 433855090287 / 0100
IBAN: CZ9801000000433855090287
SWIFT code: KOMBCZPPxxx
Variable symbol: 99902991
For payment in CZK:
Name of account: Univerzita Palackého v Olomouci
Bank account: 19-1096330227/0100
IBAN: CZ0901000000191096330227
Variable symbol: 99902991
Please note that all bank charges relating to the transfer of funds must be borne by the payer.
If you encounter any difficulties with the above, do not hesitate to contact: konferencniservis@upol.cz
Contact information
Michal Peprník | Main coordinator | michal.peprnik@upol.cz
Faculty of Arts, Palacký University Olomouc
Třída Svobody 26
779 00, Olomouc, Czech Republic
Lukáš Merz | colloquium.olomouc@upol.cz
Faculty of Arts, Palacký University Olomouc
Třída Svobody 26
779 00, Olomouc, Czech Republic